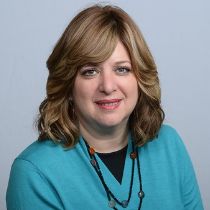 Debbie Friedman
Vice President
NMLS ID #59683
Full Application

"Let Debbie get you home!"
Bio
Debbie has been with FM Home Loans since 1992 and over the years has become one of the industry's most talented and experienced loan officers. Debbie's customers are impressed by her knowledge, wit and sincerity. She is terribly bothered when people are misdirected by other mortgage companies and placed in detrimental situations. A good portion of her time is spent advising her clients and ensuring they get the very best loan, successfully matching them to their specific financial goals. In the world of mortgages, Debbie has been known to work miracles. She's helped clients save their homes on more than one occasion, and has brokered loans as high as $5,000,000.00. She has been an equal-opportunity miracle worker and a favorite among realtors and clients alike.
Super Powers
Warmth, Humor, Humor, Humor, Reliable, Caring, Knowledgeable
Reviews
Debbie was always very attentive and informative. She was extremely patient and explained the process. She researched and acquired the best rate and loan for me. Debbie was extremely helpful and kind whenever I had questions. She made this all an easy and pleasant experience. She is wonderful to work with. I appreciate all her hard work and efforts in helping me purchase my apartment.
Debbie and her team were right there when I needed them and made the co-op purchase painless and productive. Would definitely recommend Debbie to anyone looking for a good home loan service team.
03/29/2022 |
K.G. | Neptune, NJ
debbie is the best i have been dealing with her for 25 years now
03/29/2022 |
K.Q. | Middle Village, NY
Working with a professional like Debbie made my experience much better
02/17/2022 |
L.B. | Brooklyn, NY
Response time and help with paperwork Was amazing
02/08/2022 |
M.S. | Great Neck, NY
Extremely kind , helpful and easy transactions ,
01/02/2022 |
M.S. | Great Neck, NY
Excellent and smooth transactions with Debbie very helpful would refer her anytime to friends and family,
12/30/2021 |
Y.S. | Great Neck, NY
Debbie looks out for our best interest. Gives great advice and she is a pleasure to work with.
12/18/2021 |
N.C. | Brooklyn, NY
We're first time home buyer. We were clueless. Debbie's expertise guided us through the whole process. She made it simple and easy for us. Thank you so much!
12/06/2021 |
A.A. | Woodmere, NY
Debbie is amazing and so hands on super helpful!!!!
09/29/2021 |
F.Q. | Staten Island, NY
Debbie Friedman is very helpful to me ..I really appreciated it for what she did for me
09/20/2021 |
J.S. | Deal, NJ
09/17/2021 |
S.S. | Brooklyn, NY
first of all she was AlWAYS available to talk if o ever needed. So easy to reach at any hour of the day. I especially appreciated that after hearing my friends complaint about their own brokers how it was so hard communicating with them.. all their complaints were not a problem with Debbie. She guided us beginners along the way as if we were her close friends offering us advice at points that we got stuck by. And it was thought out advice not just random suggestions. The whole experience was really a breeze ! I feel that whoever uses her will really be happy bec buying a home has so many setbacks and headaches and the last thing you want is for your broker to be annoying and not answer their phone ( I actually was contemplating using other brokers before I knew about Debbie and they wouldn't answer calls or text to start! ) Debbie me and my wife really thank you for all your hard work and we will definitely refer you to all our friends as I have already started. Thank you!
09/13/2021 |
M.H. | Kings Point, NY
DEBBIE IS VERY CLEAR ON WHAT SHE NEEDS AND WORK WITH YOU TO GET IT DONE. I WOULD HIGHLY RECOMMEND HER.
09/12/2021 |
P.S. | Brooklyn, NY
Thank you for all your help! I appreciated you always took the time to answer my questions and were very easy to work with. All in all a great experience. I will continue to pass your information along to anyone look for a mortgage/ refi.
Rent Vs. Own
Compare the estimated costs of buying vs. renting a home.
| | |
| --- | --- |
| Monthly Rent: | |
| Home Purchase Price: | |
| Down Payment: | |
| Mortgage Interest Rate: | |
| | |
| --- | --- |
| Should you rent or own? | |
| Average monthly payment increase if owning: | |
| Estimated total gain over 7 years if owning: | |
| | Rent | Own |
| --- | --- | --- |
| Initial Rent Payment | | |
| Renter's Insurance | | |
| Mortgage Payment | | |
| PMI (Mortgage Insurance) | | |
| Property Taxes | | |
| Homeowner's Insurance | | |
| Before Tax Monthly Payment | | |
| Annual Home Maintenance | | |
| Total Payments Over 7 Years | | |
| Total Tax Savings Over 7 Years | | |
| Average After Tax Monthly Payment | | |
| | |
| --- | --- |
| Estimated Home Selling Price | |
| Loan Balance | |
| Estimated Cost to Sell | |
| Down Payment & Initial Closing Costs With Unearned Interest | |
| Investment Gain of Owning vs. Renting | |
| Total Payment Savings of Owning vs. Renting | |
| Total Payment Savings of Renting vs. Owning | |
RE Training & Seminars
Find out about our exclusive training, seminars and growth opportunities for real estate professionals. Ask your LO for details.
Check Loan Status
Login with your account info to view the status of your loan. Contact your loan officer for details.
Appraisal Portal
Appraisals are required to determine the value of the property. We will let you know when it's the proper time to pay for your appraisal. When notified, please enter and order your appraisal.