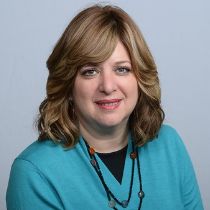 Debbie Friedman
Vice President
NMLS ID #59683
Full Application

"Let Debbie get you home!"
Bio
Debbie has been with FM Home Loans since 1992 and over the years has become one of the industry's most talented and experienced loan officers. Debbie's customers are impressed by her knowledge, wit and sincerity. She is terribly bothered when people are misdirected by other mortgage companies and placed in detrimental situations. A good portion of her time is spent advising her clients and ensuring they get the very best loan, successfully matching them to their specific financial goals. In the world of mortgages, Debbie has been known to work miracles. She's helped clients save their homes on more than one occasion, and has brokered loans as high as $5,000,000.00. She has been an equal-opportunity miracle worker and a favorite among realtors and clients alike.
Super Powers
Warmth, Humor, Humor, Humor, Reliable, Caring, Knowledgeable
TESTIMONIALS
Thank you so much for the first class service you gave my clients. I expect nothing less from you, but it is always a pleasure to watch your work!
Reviews
Clear and reliable advice.
Debbie did a great job and I appreciate her work.
Highly professional, well organized team. For a smooth transition through your mortgage maze, simply follow Debbie's instructions. She works with her head and her heart. I highly recommend this team.
1. Debbie Very professional and friendly Efficient I never felt steered to benefit the lender. You feel that there is no difference between someone buying a small house or a tower in NY. 2. Harold Very professional , always available. Would call me back after work hours. He loves his job and that is reflected in his service. 3. Rosanna Very professional , always available. I never felt that I was a bother and that really applies to the whole team. Things moved very fast despite COVID.
I really appreciate the hands on service my husband and I received while trying to purchase our first property. Debbie communicated clearly and with the current Covid - 19 pandemic was still able to get everything done in a timely manner.
Made the process a walk in the park!!
Debbie was so responsive and helpful, even during some of the unknowns in our unprecedented times.
Working with Debbie and her team was an amazing experience. They worked diligently to get my loan approved and to closing during the most difficult time Covid 19... It was truly a pleasure to deal with them!
Debbie Friedman was an absolute pleasure. Being that this was my first time applying for a home loan, I could not have asked for a more kind, knowledgeable, patient, and most importantly informative loan officer. Debbie really went above and beyond to reassure me at all times and explain the process each step of the way. Working with Debbie, I felt confident, respected, and most importantly comfortable when I had any questions or needed help. I gladly refer Debbie to all in need of her services.
Debbie Friedman and her assistant Rosanna Sat were responsive, courteous and professional!
Working with Debbie made the process so much smoother. She was on top of things and always responded to concerns and questions quickly. A true pleasure!
Debbie and Rosana were both very responsive and clear in any information and documentation needed.
Debbie made the entire process a pleasant and stress-free experience.
fantastic service ,fast respond ,great people
Debbie and her Team, made themselves accessible to me 24/7. I was treated as a long time family member. Debbie always calmed my fears from A-Z reassuring me every step of the way. By the end of this process I felt my fears dissipate and I would recommend FM Home Loans to friends and family! You have a great team and a leader in Debbie that excelled my expectations.