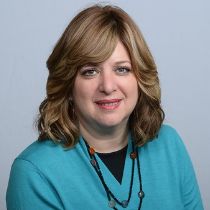 Debbie Friedman
Vice President
NMLS ID #59683
Full Application

"Let Debbie get you home!"
Bio
Debbie has been with FM Home Loans since 1992 and over the years has become one of the industry's most talented and experienced loan officers. Debbie's customers are impressed by her knowledge, wit and sincerity. She is terribly bothered when people are misdirected by other mortgage companies and placed in detrimental situations. A good portion of her time is spent advising her clients and ensuring they get the very best loan, successfully matching them to their specific financial goals. In the world of mortgages, Debbie has been known to work miracles. She's helped clients save their homes on more than one occasion, and has brokered loans as high as $5,000,000.00. She has been an equal-opportunity miracle worker and a favorite among realtors and clients alike.
Super Powers
Warmth, Humor, Humor, Humor, Reliable, Caring, Knowledgeable
Reviews
Mrs.Friedman is a highly dedicated to her role. Mrs.Friedman made this process seem less and her knowledge is impeccable. We appreciate her and her staff as they worked throughout this process. We couldn't have asked for a more detailed and dedicated Team. Thank You Mrs.Friedman for making our dreams become a reality. We absolutely love our new home. Here we feel and are welcomed with open arms. Once again Kristen and Myself would like to thank you from the bottom of our hearts. Thank You
Debbie assisted me with each step of the process. She made herself available to answer my questions and address my concerns. I am very pleased with the service she provided and will certainly recommend Debbie, and your institution to my colleagues.
Debbie was very attentive to my needs and whenever I had questions, she would gladly answer them. As a new home owner, there are a lot of technical questions that maybe I wouldn't even have known to ask. But with guide from Debbie and her team, I felt more comfortable with the home buying process.
It was such a pleasure working with Debbie. She is knowledgeable, responsible and willing to help. I would recommend Debbie to all my friends and family members if they ever need to get a mortgage or refinance. Thank you so much for making the whole process go smoothly.
Debbie is very professional and an expert at what she does...she streamlines the whole document process of the loan... and gets its done very efficiently... no surprises... Very happy and will always recommend her to family and friends.
Debbie goes above and beyond for all her clients! Thanks for all your help.
Debbie and her team were very attentive and supportive during the whole loan process. I would advise everyone to work with Debbie. No matter the challenges we encountered during the process, she made sure that things got done! I felt that she prioritized me as a client: her response rate was rapid, communication was frequent, and my stress level was minimal. While many home owners boast about their homes, I boast about my lender Debbie. Debbie gets things done!
She is great and will always gear you the right direction. Thank you for helping me and my family
Debbie was very professional and always answered our calls.
Quick, pleasant experience no hurdles to jump. Very efficient would recommend
Excellent service. She exuded trust and confidence since our first meeting. Always upfront and reliable. We would definitely recommend her to other prospective buyers.
The team at FM Loans is quite knowledgeable, courteous, and show a great deal of professionalism when dealing with their Clientele. Looking forward in working with them again on future investments.
The staff at FM Home Loan are professional, courteous and well informed in what they do. 100% will be using their services again in the future.
Rent Vs. Own
Compare the estimated costs of buying vs. renting a home.
| | |
| --- | --- |
| Monthly Rent: | |
| Home Purchase Price: | |
| Down Payment: | |
| Mortgage Interest Rate: | |
| | |
| --- | --- |
| Should you rent or own? | |
| Average monthly payment increase if owning: | |
| Estimated total gain over 7 years if owning: | |
| | Rent | Own |
| --- | --- | --- |
| Initial Rent Payment | | |
| Renter's Insurance | | |
| Mortgage Payment | | |
| PMI (Mortgage Insurance) | | |
| Property Taxes | | |
| Homeowner's Insurance | | |
| Before Tax Monthly Payment | | |
| Annual Home Maintenance | | |
| Total Payments Over 7 Years | | |
| Total Tax Savings Over 7 Years | | |
| Average After Tax Monthly Payment | | |
| | |
| --- | --- |
| Estimated Home Selling Price | |
| Loan Balance | |
| Estimated Cost to Sell | |
| Down Payment & Initial Closing Costs With Unearned Interest | |
| Investment Gain of Owning vs. Renting | |
| Total Payment Savings of Owning vs. Renting | |
| Total Payment Savings of Renting vs. Owning | |
Get Pre-Approved/Start Your Loan Today
RE Training & Seminars
Find out about our exclusive training, seminars and growth opportunities for real estate professionals. Ask your LO for details.
Check Loan Status
Login with your account info to view the status of your loan. Contact your loan officer for details.
Appraisal Portal
Appraisals are required to determine the value of the property. We will let you know when it's the proper time to pay for your appraisal. When notified, please enter and order your appraisal.