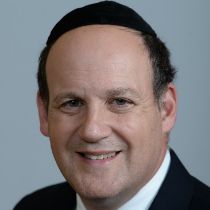 David Wenger
Vice President
NMLS ID #64370
Full Application

"Let David get you home!"
Bio
David is one of FM Home Loans' top-producing loan officers with a very long list of very happy clients. Enjoying a vast clientele that includes professional athletes and celebrities, he has been vital to the success and growth of our company. David began his career in mortgage lending in 1996, simultaneously pursuing an MBA at Fordham University. Always the consummate team player, David likens being a loan officer to playing sports (which also happens to be his favorite subject). His keys to success are putting in maximum effort and never becoming discouraged when the going gets tough. To David, there are no problems, only challenges and obstacles to overcome. An avid athlete and sports-fan, David's clients benefit greatly from his energy, devotion, skilled mortgage knowledge, and exceptional service.
Super Powers
Super-Positive, Reliable, Athletic, Thorough, Responsive and Knowledgeable
Reviews
David Wenger is a pleasure to work with
David was a pleasure to work with and helped me get a mortgage. He was very accommodating and extremely helpful every step of the way
David is David, best out there with great company and super great service, my son got mortgage from him a year ago and here I am doing same I highly recommend him with out asking About anything. Nothing is impossible for him. Thanks David
Awesome service and communication!!
Smooth & pleasant transaction
Mr. Wenger's efficient response to all our needs and going the extra mile to make sure to explore every opportunity to get us the best mortgage rate possible!
It was easy, the paperwork wasn't overly burdensome.
David Wenger is smart and knowledgeable about the mortgage process. I have used him twice so far And look forward to using him again. He is by far the best.
David was on top of things from start to finish, and was out to get me the best deal possible. Would highly recommend!
Very professional and quick response
Overall a great experience!
Great service.Great people. Very helpful and knowledgeable.
David (and his assistants) were always to answer questions and guide us through the process of application and approval. His knowledge,accurate answers and good cheer made it a pleasant experience and were reassuring. Thank you
David was knowledgeable, proactive and gave us great advice. The only negative remark was that the closing costs were a moving target. More transparancy and work is required there.
Rent Vs. Own
Compare the estimated costs of buying vs. renting a home.
| | |
| --- | --- |
| Monthly Rent: | |
| Home Purchase Price: | |
| Down Payment: | |
| Mortgage Interest Rate: | |
| | |
| --- | --- |
| Should you rent or own? | |
| Average monthly payment increase if owning: | |
| Estimated total gain over 7 years if owning: | |
| | Rent | Own |
| --- | --- | --- |
| Initial Rent Payment | | |
| Renter's Insurance | | |
| Mortgage Payment | | |
| PMI (Mortgage Insurance) | | |
| Property Taxes | | |
| Homeowner's Insurance | | |
| Before Tax Monthly Payment | | |
| Annual Home Maintenance | | |
| Total Payments Over 7 Years | | |
| Total Tax Savings Over 7 Years | | |
| Average After Tax Monthly Payment | | |
| | |
| --- | --- |
| Estimated Home Selling Price | |
| Loan Balance | |
| Estimated Cost to Sell | |
| Down Payment & Initial Closing Costs With Unearned Interest | |
| Investment Gain of Owning vs. Renting | |
| Total Payment Savings of Owning vs. Renting | |
| Total Payment Savings of Renting vs. Owning | |
Get Pre-Approved/Start Your Loan Today
RE Training & Seminars
Find out about our exclusive training, seminars and growth opportunities for real estate professionals. Ask your LO for details.
Check Loan Status
Login with your account info to view the status of your loan. Contact your loan officer for details.
Appraisal Portal
Appraisals are required to determine the value of the property. We will let you know when it's the proper time to pay for your appraisal. When notified, please enter and order your appraisal.