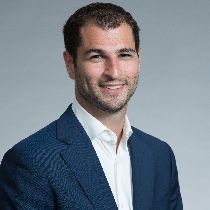 David Mizrahi
Vice President/Business Development Manager
NMLS ID #40925
Full Application

"Let David get you home!"
Bio
David began his career in 2001 and has mastered the art of outstanding customer service to both realtors and clients. He is not deterred by challenges - in fact, he embraces them - and refuses to be sidetracked from his ultimate goal: getting a client approved and to their closing as fast as possible. David proudly recalls the time that he assembled the necessary parties, realtors, appraiser, lawyers, etc. and successfully closed a loan, from beginning to end, during a weeklong blizzard. A master of social media, he is one of the most innovative and creative hashtag creators in our company. David has successfully developed relationships with many real estate firms who view him as a treasured resource and a reputable professional with an exemplary work ethic. He is a featured speaker at home-buying seminars and events, and is famous for his focused attention to detail and his commitment to providing the ultimate customer experience.
Super Powers
Fast, Responsive, Knowledgeable, Reassuring and Reliable
Reviews
The experience with FM mortgage was amazing. David Mizrahi kept all communication with me during this process which was beyond my expectations. I highly recommend to any first time home buyer and even someone who is expecting to purchase a second home. I'm very glad I chose them. I was very skeptical at first because you hear of so many nightmare stories with other places but he really put my mind at ease. Thank you again FM mortgage I love my new home.
David provided advice and helped us every step of the way. He supported us during our entire home search for the last two years between 4 offers and 3 towns. David was able to secure us an extremely competitive rate and did every thing in his power to push our closing along to meet our target dates. I would unequivocally recommend David to friends, family and anyone reading this review!
This was our second time doing business with David. David is available at all times and really goes the extra mile. He earns your business.
The fact that David and his team was patient and took time to explain things that was not clear. Customer service was excellent, very friendly. Went above and beyond to help make the transition smooth. The whole team is very professional.
Very informative and highly detailed work. I was almost annoyed by how many documents were required but it's all part of the process. David and Corinda were extremely nice and answered all 1,000 questions I had. Signing documents were easy as everything is online. The bank lawyer (forgot his name) was excellent at closing. He explained everything in full detail.
David made everything easier with the process of getting the new house
David's team made it happen for us- online portal made it easy to submit all documentation necessary and the process was seamless.
David is a professional with extensive experience and was helpful and transparent throughout the process of securing my first home mortgage. His team is also professional and were on top of every detail and we're extremely responsive. I highly recommend David and his team!!
Very pleasant to work with!
David always answered all of our questions. He really had our best interested throughout the whole process.
David is very dedicated, hard working and was always available to answer any questions along the way. Repeat customer, and would definitely recommend to friends and family.
All my questions and concerns were answered timely. The process was smooth and informative. Mr. Mizrahi provided good information and the loan options that suited our needs. I am really satisfied and grateful with the service I received and I'm sharing my experience with my friends and family.
Thank you for you business
Rent Vs. Own
Compare the estimated costs of buying vs. renting a home.
| | |
| --- | --- |
| Monthly Rent: | |
| Home Purchase Price: | |
| Down Payment: | |
| Mortgage Interest Rate: | |
| | |
| --- | --- |
| Should you rent or own? | |
| Average monthly payment increase if owning: | |
| Estimated total gain over 7 years if owning: | |
| | Rent | Own |
| --- | --- | --- |
| Initial Rent Payment | | |
| Renter's Insurance | | |
| Mortgage Payment | | |
| PMI (Mortgage Insurance) | | |
| Property Taxes | | |
| Homeowner's Insurance | | |
| Before Tax Monthly Payment | | |
| Annual Home Maintenance | | |
| Total Payments Over 7 Years | | |
| Total Tax Savings Over 7 Years | | |
| Average After Tax Monthly Payment | | |
| | |
| --- | --- |
| Estimated Home Selling Price | |
| Loan Balance | |
| Estimated Cost to Sell | |
| Down Payment & Initial Closing Costs With Unearned Interest | |
| Investment Gain of Owning vs. Renting | |
| Total Payment Savings of Owning vs. Renting | |
| Total Payment Savings of Renting vs. Owning | |
Get Pre-Approved/Start Your Loan Today
RE Training & Seminars
Find out about our exclusive training, seminars and growth opportunities for real estate professionals. Ask your LO for details.
Check Loan Status
Login with your account info to view the status of your loan. Contact your loan officer for details.
Appraisal Portal
Appraisals are required to determine the value of the property. We will let you know when it's the proper time to pay for your appraisal. When notified, please enter and order your appraisal.