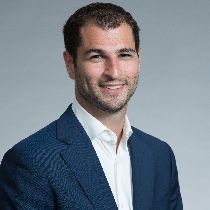 David Mizrahi
Vice President/Business Development Manager
NMLS ID #40925
Full Application

"Let David get you home!"
Bio
David began his career in 2001 and has mastered the art of outstanding customer service to both realtors and clients. He is not deterred by challenges - in fact, he embraces them - and refuses to be sidetracked from his ultimate goal: getting a client approved and to their closing as fast as possible. David proudly recalls the time that he assembled the necessary parties, realtors, appraiser, lawyers, etc. and successfully closed a loan, from beginning to end, during a weeklong blizzard. A master of social media, he is one of the most innovative and creative hashtag creators in our company. David has successfully developed relationships with many real estate firms who view him as a treasured resource and a reputable professional with an exemplary work ethic. He is a featured speaker at home-buying seminars and events, and is famous for his focused attention to detail and his commitment to providing the ultimate customer experience.
Super Powers
Fast, Responsive, Knowledgeable, Reassuring and Reliable
Reviews
David was very patient and knowledgeable. Thank you!
Mr. Mizrahi and his team are great at their jobs. In addition to that he is very polite and extremely friendly. What could be a stressful process is made a lot easier due to Mr. Mizrahi's personality.
David and his team are very personable. Anytime I've needed his service I feel like I'm being treated like a close long time friend and I'm sure he makes all his clients feel that way. David is good at his job and is honest.
It was great working with David. He was responsive, quick to answer all my questions and was great at getting the closing done. Thanks
wonderful and professional
Whenever I called with a concern or questions someone always reached out to me with an answer. I felt that I was always acknowledged . I would certainly do business again with David and feel very comfortable referring other people for his service .
David made us feel very comfortable through the process of buying our first home! He answered all of our questions and assuaded any of our concerns. His team also was phenomenal. They're easy to contact and are very helpful.
David is knowledgeable and honest. Makes it easy!!
David in particular was extremely helpful and communicative. He answered my calls at any time to help with anything I needed. I could not have been in better hands.
I had a excellent experience with David Mizrahi and all his staff with the refinancing. Everyone was knowledgeable, professional in answering all my questions. I would highly recommend them and will definitely use them again.
The professionalism and ability of the staff to make people comfortable. The service is outstanding.
David and his team went above and beyond for my family and myself.
We received what we need. Thank you.
Easy to work with, 2nd time using FM Home Loans (buying house + refinancing).
All I can say is they are great. Great customer service and great team. I was a first time home buyer and a true amateur to the home buying game and they helped me learn at the same time explaining things so clearly you couldnt go wrong. Thank you ,you made my family truly happy. Highly highly recommended....