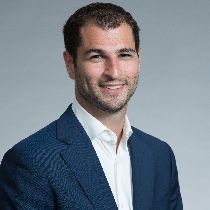 David Mizrahi
Vice President/Business Development Manager
NMLS ID #40925
Full Application

"Let David get you home!"
Bio
David began his career in 2001 and has mastered the art of outstanding customer service to both realtors and clients. He is not deterred by challenges - in fact, he embraces them - and refuses to be sidetracked from his ultimate goal: getting a client approved and to their closing as fast as possible. David proudly recalls the time that he assembled the necessary parties, realtors, appraiser, lawyers, etc. and successfully closed a loan, from beginning to end, during a weeklong blizzard. A master of social media, he is one of the most innovative and creative hashtag creators in our company. David has successfully developed relationships with many real estate firms who view him as a treasured resource and a reputable professional with an exemplary work ethic. He is a featured speaker at home-buying seminars and events, and is famous for his focused attention to detail and his commitment to providing the ultimate customer experience.
Super Powers
Fast, Responsive, Knowledgeable, Reassuring and Reliable
Reviews
Dave was available to update me whenever he needed as well as answering any question I had. He was very clear and informative. I would highly recommend Dave to anyone I know.
David and everyone that works with him are great, they are professional, patient and clear about the entire process. They were flexible to our specific needs and worked with us to get the best possible outcome.
Your guy Calvin Lam always kept in touch with me and always took care of answering my ?'s every step of the way.
David & his staff were very attentive & patient with me throughout the entire process. I am very grateful for all their work in helping me.
Made it quick and easy for first time buyer!
David Mazrahi is the best!
David was very knowledgeable in his work and everything went as planned, I would definitely work with him again
David was absolutely wonderful from start to finish. He made himself available to me every step of the way and was very straight forward and honest. I am so glad I was referred to him because I really felt like I had someone knowledgeable in my corner, being that this was my first time purchasing a home. I would definitely recommend him to anyone looking to finance a home. He even showed up to the closing to make sure things were going as planned.
David and his team they made the impossible happen for me thank you so much
Giving advices and answer all our questions and getting back to us with pleasure to help us. He is owsom and wonderfull .
It was a pleasure working with you as you have explained it all from the beginning excellent to work with
Always available and explains everything to the "T".
Overall great and easy experience. April Rainey was also great.