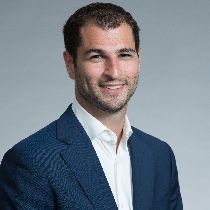 David Mizrahi
Vice President/Business Development Manager
NMLS ID #40925
Full Application

"Let David get you home!"
Bio
David began his career in 2001 and has mastered the art of outstanding customer service to both realtors and clients. He is not deterred by challenges - in fact, he embraces them - and refuses to be sidetracked from his ultimate goal: getting a client approved and to their closing as fast as possible. David proudly recalls the time that he assembled the necessary parties, realtors, appraiser, lawyers, etc. and successfully closed a loan, from beginning to end, during a weeklong blizzard. A master of social media, he is one of the most innovative and creative hashtag creators in our company. David has successfully developed relationships with many real estate firms who view him as a treasured resource and a reputable professional with an exemplary work ethic. He is a featured speaker at home-buying seminars and events, and is famous for his focused attention to detail and his commitment to providing the ultimate customer experience.
Super Powers
Fast, Responsive, Knowledgeable, Reassuring and Reliable
Reviews
The whole process was very smooth and fast! Thank you David!
David was awesome to work with through the whole loan process from the beginning until the end, along with his whole team. To me was must important whenever I called David with questions, I always got a call back from him on the same day. Trust me I ask a lot of questions and sometimes the same over and over, David never once rushed me off the phone and always answered my questions 100%. I would definitely only use or recommend David Mizrahi for a home loan. Robert Svenson
I worked with Angie Rendon who is David's assistant, the communication with her was very good and she was always very diligent during the loan process.
David provided personalized service and financial advice and it was a very smooth process. We were extremely satisfied with our overall service and highly recommend him to others.
I am highly satisfied with David Mizrahi's service.
David helped me and my wife obtain a mortgage in a fast, amicable, and super professional manner. His whole team was incredible throughout the process. He kept his word, maintained contact throughout the process, and was a pleasure to do business with. I highly recommend anyone in pursuit of a mortgage to contact David, my only complaint was not coming to him sooner. Thank you again David, Calvin and Elaine.
David and his team were great in helping me purchase my home. Customer-friendly, efficient and nice, they were/are always the to answer my questions and I would definitely recommend David to friends and family. I had a great experience.
From start to finish David and his team were very knowledgeable, accommodating, and timely throughout the process. I was always able to reach someone and ask any questions I needed and got the answers immediately. The team was also very on point with finding me the best product and meeting the deadline established. It was a pleasure and stress free experience dealing with David and his group during the mortgage process and I would definitely recommend their services.
Working with great people
David and his staff were very hands on, they assisted me promptly with all of my questions and needs, they really have exceeded my expectations! I will surely be sending all friends and family memebers!! Thanks again!
It was an absolute pleasure working David Mizrahi and his associates. They all went above and beyond with excellent communication and was able to guide through this transaction as easy and smooth as possible. I am very happy with David and his associates work and honesty. I will most definitely recommend and use David Mizrahi service again.
Quick, Simple, Informative, Available, Responsive, Kind, Considerate... and most importantly Executed everything he said he would flawlessly. I can't thank David enough for helping me get my new home. Thanks again.
Elaine Shaw was terrific. The process can be onerous at times and Elaine was very professional and patient.
David and his team were stellar in handling my loan and all that came with it. I could not offer a higher recommendation!