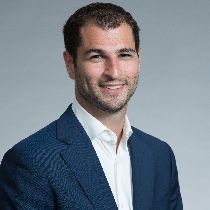 David Mizrahi
Vice President/Business Development Manager
NMLS ID #40925
Full Application

"Let David get you home!"
Bio
David began his career in 2001 and has mastered the art of outstanding customer service to both realtors and clients. He is not deterred by challenges - in fact, he embraces them - and refuses to be sidetracked from his ultimate goal: getting a client approved and to their closing as fast as possible. David proudly recalls the time that he assembled the necessary parties, realtors, appraiser, lawyers, etc. and successfully closed a loan, from beginning to end, during a weeklong blizzard. A master of social media, he is one of the most innovative and creative hashtag creators in our company. David has successfully developed relationships with many real estate firms who view him as a treasured resource and a reputable professional with an exemplary work ethic. He is a featured speaker at home-buying seminars and events, and is famous for his focused attention to detail and his commitment to providing the ultimate customer experience.
Super Powers
Fast, Responsive, Knowledgeable, Reassuring and Reliable
Reviews
David and his team went above and beyond for my family and myself.
We received what we need. Thank you.
Easy to work with, 2nd time using FM Home Loans (buying house + refinancing).
All I can say is they are great. Great customer service and great team. I was a first time home buyer and a true amateur to the home buying game and they helped me learn at the same time explaining things so clearly you couldnt go wrong. Thank you ,you made my family truly happy. Highly highly recommended....
When I decided to refinance my home I never imagined that it would be so difficult I went to broker after broker and each one would provide me with the same response they were so sorry but there was no way they could be of service to me. A friend of mine recommended me to Mr. David Mizrahi and it was truly a blessing and a pleasure to have worked with him and his team I would highly recommend them to anyone who is looking for a firm that puts the needs of their clients first above anything.
Angie Rendon, fue la clave en mi proceso, ella fue muy pronta a contestar mis llamadas y estuvo pendiente en todo el proceso hasta que el banco nos dio el credito. En comparacion a los otros dos bancos con los que previamente habia buscado informacion. la atencion al cliente y su pronta accion de este banco marco la diferencia. Cuando uno compra casa necesita un agente bancario que le explique y lo guie en todo lo que debe hacer para obtener el prestamo bancario; FM lo hizo posible.
Very professional, great communication. Would definitely recommend.
David, You are amazing. You answered all of my questions during the while process. You made my whole process very easy and I will tell all of my friends to talk to you to get the advice. Thanks a lot again.
David has a very pleasant personality and is always available to answer any questions and address any issues or concern. I highly recommend him.
FM bank has became apart of my family during my process of buying a home! Huge shout out to April for making the process smoother and being available whenever needed.
Great job done by a talented team.
Very professional level of service.
The personal attention, that I received from April. She went above and beyond. April is very hands on and really takes the time to listen to your personal needs. She made the process, so easy!
David and his team offered us constant accessibility, prompt results, and service with a smile. Our home buying process was made easier through them.
David and his team are excellent. They just know how to execute. They pulled off my loan in record time and had my wife and i in the house before the summer began. I cannot thank the team enough.