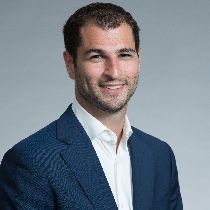 David Mizrahi
Vice President/Business Development Manager
NMLS ID #40925
Full Application

"Let David get you home!"
Bio
David began his career in 2001 and has mastered the art of outstanding customer service to both realtors and clients. He is not deterred by challenges - in fact, he embraces them - and refuses to be sidetracked from his ultimate goal: getting a client approved and to their closing as fast as possible. David proudly recalls the time that he assembled the necessary parties, realtors, appraiser, lawyers, etc. and successfully closed a loan, from beginning to end, during a weeklong blizzard. A master of social media, he is one of the most innovative and creative hashtag creators in our company. David has successfully developed relationships with many real estate firms who view him as a treasured resource and a reputable professional with an exemplary work ethic. He is a featured speaker at home-buying seminars and events, and is famous for his focused attention to detail and his commitment to providing the ultimate customer experience.
Super Powers
Fast, Responsive, Knowledgeable, Reassuring and Reliable
Reviews
Easy to reach out and fast service.
David and his team made the process enjoyable and less stressful. He makes you feel that you are the only case he has. Very important is that he dedicates himself into the process with the magic touch of friendship feeling.
David made me feel like our interaction was personal and inviting. He made sure if I had any questions, for the most part, he always had time to answer them fully.
David Mizrahi and his staff did an excellent Job
David is great! Very knowledgeable, and consistent with his communication with us. He was always available and always responded. Through the entire process I can tell David was a driving forces to make sure we have a smooth processes.
David was very responsive and always available.
David was great from start to finish, while everyone else is making excuses he was able to get us to the closing table with no issues at the best rate. Make sure you talk to David before you make your choice.
My experience went super smooth with David and FM home loans. All of my questions were always answered as quickly as possible, and as a first time home buyer, I was never left confused or unsure of anything. I am very glad to have had David and FM home loans guiding me through my home buying experience.
David was so pleasant to work with, the process was smooth and quick, I would recommend David and his team to my friends and family.
David was very helpful. He explained everything very clearly and made the loan process very easy. His team was also very helpful.
David is the best. Easy to get in contact with. Always a Quick response to emails and questions from his whole team.
Mr.David was a very nice and professional mortgage broker. Will definitely recommend him to anyone wanting to purchase a home
Mr.David was one of the best mortgage brokers. Will definitely recommend him to anyone wanting to purchase a home.
Rent Vs. Own
Compare the estimated costs of buying vs. renting a home.
| | |
| --- | --- |
| Monthly Rent: | |
| Home Purchase Price: | |
| Down Payment: | |
| Mortgage Interest Rate: | |
| | |
| --- | --- |
| Should you rent or own? | |
| Average monthly payment increase if owning: | |
| Estimated total gain over 7 years if owning: | |
| | Rent | Own |
| --- | --- | --- |
| Initial Rent Payment | | |
| Renter's Insurance | | |
| Mortgage Payment | | |
| PMI (Mortgage Insurance) | | |
| Property Taxes | | |
| Homeowner's Insurance | | |
| Before Tax Monthly Payment | | |
| Annual Home Maintenance | | |
| Total Payments Over 7 Years | | |
| Total Tax Savings Over 7 Years | | |
| Average After Tax Monthly Payment | | |
| | |
| --- | --- |
| Estimated Home Selling Price | |
| Loan Balance | |
| Estimated Cost to Sell | |
| Down Payment & Initial Closing Costs With Unearned Interest | |
| Investment Gain of Owning vs. Renting | |
| Total Payment Savings of Owning vs. Renting | |
| Total Payment Savings of Renting vs. Owning | |
Get Pre-Approved/Start Your Loan Today
RE Training & Seminars
Find out about our exclusive training, seminars and growth opportunities for real estate professionals. Ask your LO for details.
Check Loan Status
Login with your account info to view the status of your loan. Contact your loan officer for details.
Appraisal Portal
Appraisals are required to determine the value of the property. We will let you know when it's the proper time to pay for your appraisal. When notified, please enter and order your appraisal.