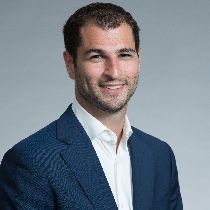 David Mizrahi
Vice President/Business Development Manager
NMLS ID #40925
Full Application

"Let David get you home!"
Bio
David began his career in 2001 and has mastered the art of outstanding customer service to both realtors and clients. He is not deterred by challenges - in fact, he embraces them - and refuses to be sidetracked from his ultimate goal: getting a client approved and to their closing as fast as possible. David proudly recalls the time that he assembled the necessary parties, realtors, appraiser, lawyers, etc. and successfully closed a loan, from beginning to end, during a weeklong blizzard. A master of social media, he is one of the most innovative and creative hashtag creators in our company. David has successfully developed relationships with many real estate firms who view him as a treasured resource and a reputable professional with an exemplary work ethic. He is a featured speaker at home-buying seminars and events, and is famous for his focused attention to detail and his commitment to providing the ultimate customer experience.
Super Powers
Fast, Responsive, Knowledgeable, Reassuring and Reliable
Reviews
05/26/2022 |
M.W. | Spring Valley, NY
As a client I was informed about every business detail for my loan process as a first time homebuyer. David and his staff were great.
05/16/2022 |
M.C. | Brooklyn, NY
It was a quick and seamless process from the start to the finish. David and the rest of the team were fantastic to work with. Very responsive, communicative and extremely professional. Overall the team went above and beyond my expectations! Thank you, David and team. Stephanie was part of the great experience- customer service!
05/06/2022 |
M.O. | Dover, NJ
David is an excellent professional!! Words can't describe all the amazing the support I got during all the loan process, from the beginning until the end!! It was a very difficult deal and another's banks always said not to me saying is an impossible deal!! Guess what!! David said YES
04/30/2022 |
G.N. | Baldwin, NY
David was professional during the entire process. He was very quick to respond to our questions. The whole process went smoothly and we appreciate him for expediting the closing process.
04/29/2022 |
S.C. | Jamaica, NY
Mr. David is very helpful and educate us through the process of home buying. He is passionate about what he does. I wish him all the best.
04/15/2022 |
R.S. | Brooklyn, NY
04/12/2022 |
K.C. | Shirley, NY
These people are very very nice people and I'm very satisfied with the work that they have done for me and I will recommend anybody who need help in buying a house these are the people you want to deal with and if I have to do something like this again I will choose these guys over anybody very very nice people
03/28/2022 |
R.F. | Ozone Park, NY
The informative and courteous service throughout..
03/22/2022 |
J.C. | W Babylon, NY
They were all so kind , understanding very experienced .I felt like a part of a great team .Dint matter what time I sent and email or text or call there was always some one to respond to me .If I have to do this all over I will definitely choose David and his team.
03/08/2022 |
M.A. | Cambria Heights, NY
He goes above and beyond for the client
03/07/2022 |
L.B. | Chester, NY
The accountability and responsibility of the staff was amazing. Overall great work by David and his staff.
03/04/2022 |
S.J. | Rosedale, NY
David is one of a kind, for me I need consistent reassurance because I felt defeated and my confidence about the process was low. David was so confident and honest he made me feel so comfortable and confident to keep going. Here I am with my own home. I can't wait to do it again. I've already referred people to him.
02/23/2022 |
W.B. | Manchester, NJ
This is the second time David and his firm worked with us in obtaining a mortgage. He is friendly, knowledgeable and so easy to work with. Thank you David and staff!
02/23/2022 |
S.P. | Burlington, NJ
David and his team were on it as if it were them buying a home; any concern or question I had was dealt with immediately.
02/21/2022 |
M.M. | Lynbrook, NY
David was very accessible and was able to explain things in a way for me to easily understand.
Rent Vs. Own
Compare the estimated costs of buying vs. renting a home.
| | |
| --- | --- |
| Monthly Rent: | |
| Home Purchase Price: | |
| Down Payment: | |
| Mortgage Interest Rate: | |
| | |
| --- | --- |
| Should you rent or own? | |
| Average monthly payment increase if owning: | |
| Estimated total gain over 7 years if owning: | |
| | Rent | Own |
| --- | --- | --- |
| Initial Rent Payment | | |
| Renter's Insurance | | |
| Mortgage Payment | | |
| PMI (Mortgage Insurance) | | |
| Property Taxes | | |
| Homeowner's Insurance | | |
| Before Tax Monthly Payment | | |
| Annual Home Maintenance | | |
| Total Payments Over 7 Years | | |
| Total Tax Savings Over 7 Years | | |
| Average After Tax Monthly Payment | | |
| | |
| --- | --- |
| Estimated Home Selling Price | |
| Loan Balance | |
| Estimated Cost to Sell | |
| Down Payment & Initial Closing Costs With Unearned Interest | |
| Investment Gain of Owning vs. Renting | |
| Total Payment Savings of Owning vs. Renting | |
| Total Payment Savings of Renting vs. Owning | |
RE Training & Seminars
Find out about our exclusive training, seminars and growth opportunities for real estate professionals. Ask your LO for details.
Check Loan Status
Login with your account info to view the status of your loan. Contact your loan officer for details.
Appraisal Portal
Appraisals are required to determine the value of the property. We will let you know when it's the proper time to pay for your appraisal. When notified, please enter and order your appraisal.