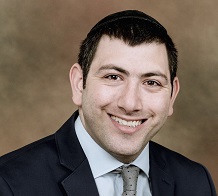 Daniel Vaturi
Mortgage Loan Originator
NMLS ID #367291
Full Application

"Let Daniel get you home!"
Bio
Daniel prides himself on helping families and individuals achieve their dreams by leveraging FM Home Loans extensive mortgage lending resources to provide great rates, fast pre-approvals, superior customer service and hassle-free closings. Daniel is dedicated to building lasting relationships with realtors by providing their buyers with effective purchasing solutions and real time communication.
Super Powers
Experienced, Knowledgeable, Professional, Optimistic, Aggresive and Thorough
Reviews
This is my second loan with Mr. Vaturi. He has held our hand throughout the process and always been upfront. Can't imagine working with someone else. Highly recommend for anyone seeking a new purchase loan or a refinance to reach out to Mr. Vaturi - he will get the job done.
Daniel was great! Jenny as well
This is my second loan working with Daniel and his team. Both deals had their complications, but Daniel walked us through the process seamlessly from start to finish. I would definitely recommend Daniel to anyone and would never think of using anyone else.
Daniel was available to explain the process which was appreciated.
Daniel held my hand through the process and was proactive in making my deal happen. He also gave me some great advice that allowed me to put down a smaller downpayment. Without Daniel's guidance my deal would have probably taken several months, instead, it took a month from the time of the application until the closing. That's unheard of !
Daniel was knowledgeable, helpful, intuitive, and really helped us every step of the way. His service is unparalleled
It a pleasure working with Daniel, very professional and easy to work with. Thank you
they really care about customers
Daniel continuously kept in touch with us and was always available to answer questions throughout the enter process . He was knowledgeable, effective and fast to take care of things . His service was kind and productive . Thank you so much !
Daniel was amazing he followed up and got me the best deal out of 4 companies
Great guy! Does not run away when the tough questions needed to be answered. Got my mortgage for me and now I am referring him to others.
I was referred to Daniel from someone I knew because I had a very difficult time with a major bank during my loan process. Daniel was honest and explained everything thoroughly! The service that he and his team provided was personalized and efficient! He responded to my questions and explained every step without any surprises. I really appreciate the personalized service that he provided and will only seek his advice if I need another mortgage or refinance. Thanks Daniel!
Very helpful. Always available when I needed a question answered. FM made my experience great!
Rent Vs. Own
Compare the estimated costs of buying vs. renting a home.
| | |
| --- | --- |
| Monthly Rent: | |
| Home Purchase Price: | |
| Down Payment: | |
| Mortgage Interest Rate: | |
| | |
| --- | --- |
| Should you rent or own? | |
| Average monthly payment increase if owning: | |
| Estimated total gain over 7 years if owning: | |
| | Rent | Own |
| --- | --- | --- |
| Initial Rent Payment | | |
| Renter's Insurance | | |
| Mortgage Payment | | |
| PMI (Mortgage Insurance) | | |
| Property Taxes | | |
| Homeowner's Insurance | | |
| Before Tax Monthly Payment | | |
| Annual Home Maintenance | | |
| Total Payments Over 7 Years | | |
| Total Tax Savings Over 7 Years | | |
| Average After Tax Monthly Payment | | |
| | |
| --- | --- |
| Estimated Home Selling Price | |
| Loan Balance | |
| Estimated Cost to Sell | |
| Down Payment & Initial Closing Costs With Unearned Interest | |
| Investment Gain of Owning vs. Renting | |
| Total Payment Savings of Owning vs. Renting | |
| Total Payment Savings of Renting vs. Owning | |
Get Pre-Approved/Start Your Loan Today
RE Training & Seminars
Find out about our exclusive training, seminars and growth opportunities for real estate professionals. Ask your LO for details.
Check Loan Status
Login with your account info to view the status of your loan. Contact your loan officer for details.
Appraisal Portal
Appraisals are required to determine the value of the property. We will let you know when it's the proper time to pay for your appraisal. When notified, please enter and order your appraisal.