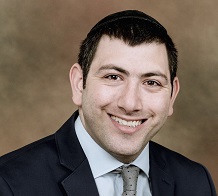 Daniel Vaturi
Mortgage Loan Originator
NMLS ID #367291
Full Application

"Let Daniel get you home!"
Bio
Daniel prides himself on helping families and individuals achieve their dreams by leveraging FM Home Loans extensive mortgage lending resources to provide great rates, fast pre-approvals, superior customer service and hassle-free closings. Daniel is dedicated to building lasting relationships with realtors by providing their buyers with effective purchasing solutions and real time communication.
Super Powers
Experienced, Knowledgeable, Professional, Optimistic, Aggresive and Thorough
Contact

Direct: (718) 906-5079

Fax: (347) 289-8182

Cell: (718) 344-4510

Email: dvaturi@fmm.com

Dept: Sales

Licensed States: CT, FL, NJ, NY

Location

FM HOME LOANS - BRONX BRANCH
961 Morris Park Avenue
Bronx, NY 10462
TESTIMONIALS
Daniel does not give you a fast-talking sales pitch. He explains the process from beginning to end, and makes sure you understand the calculations as well as all of the loan parameters. A professional par excellence!

Daniel has handled all of my family's home purchases (4) & refi's (4) over quite some time. He is a pleasure to work with. I would highly recommend him for all loans, both complicated and simple ones.

Mprofesorske

December 13, 2016
Reviews
Daniel was knowledgeable, helpful, intuitive, and really helped us every step of the way. His service is unparalleled
It a pleasure working with Daniel, very professional and easy to work with. Thank you
they really care about customers
Daniel continuously kept in touch with us and was always available to answer questions throughout the enter process . He was knowledgeable, effective and fast to take care of things . His service was kind and productive . Thank you so much !
Daniel was amazing he followed up and got me the best deal out of 4 companies
Great guy! Does not run away when the tough questions needed to be answered. Got my mortgage for me and now I am referring him to others.
I was referred to Daniel from someone I knew because I had a very difficult time with a major bank during my loan process. Daniel was honest and explained everything thoroughly! The service that he and his team provided was personalized and efficient! He responded to my questions and explained every step without any surprises. I really appreciate the personalized service that he provided and will only seek his advice if I need another mortgage or refinance. Thanks Daniel!
Very helpful. Always available when I needed a question answered. FM made my experience great!
Daniel was amazing throughout the entire process. Will certainly recommend to all my Friends and family. Thanks again Daniel!
Daniel was extremely helpful and knowledgeable throughout the whole process!! Thank you!!
Daniel is amazing. He held my hand through the entire mortgage process and made it easy and smooth. He got me a great rate and was able to expedite everything for me. I will recommend Daniel to all my friends.
Excellent communication. Excellent support. Excellent experience.
My husband and I had such a great experience working with Daniel the first time we bought a home, and an equally great experience the second time! Daniel is committed to making the home-buying process simple to understand and easy to execute. He is experienced, knowledgeable, friendly, easy to reach, and exceeds all expectations in customer service. He went out of his way to redo the loan process for us when interest rates dropped while we were in escrow. We could not have been more pleased!